Here are the latest housing market predictions and forecasts for 2020 & 2021. The housing market has seen record-breaking growth since June after briefly put on hold during the outbreak of the pandemic this spring. Despite looming economic uncertainty, highly controversial elections, and the aggravated spread of the pandemic, home buyers continue to quickly snatch up the relatively few homes listed for sale.

This time the housing market is largely being driven by two factors: a shortage of available housing inventory and extremely low-interest rates. Double-digit annual growth in both list and sale prices show an extreme lack of inventory and incredible demand — A sign of a hot seller's real estate market. Overall inventory was down 7% from last month, the largest monthly drop since January, and slipped 33.8% from the same time in 2019, according to Zillow.
Home sales have risen to a 14-year high. Speedy home sales continue in all regions of the country and the median sales price continues to have double-digit growth. November, which marks the traditional slowdown of the housing market, remained a hyperactive month. The flow of buyers and sellers remained abnormally high in the fall season. Not only the housing demand but the supply of new listings has also reached the highest point since the onset of the pandemic.
It seems we're going to witness a hot seller's real estate market which is going to beat more seasonal records these holidays. Now we need to wait and watch whether the demand would soften up a bit in December and lead to a decrease in the pace of price growth. Buyers have been looking for signs of a slowdown in the housing market that has been red hot since its post-pandemic recovery but the prices continue to skyrocket.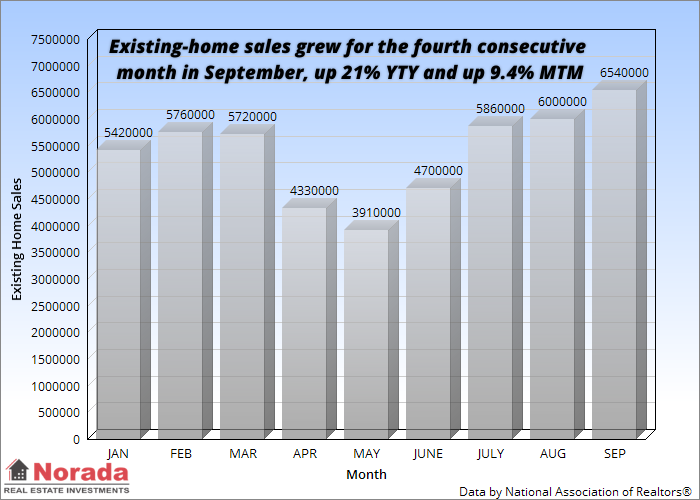 As a result of intense demand and low inventory, list prices have continued to tick upwards year over year in every week since May, giving sellers a clear advantage. The list prices are soaring in double-digits (nearly 13 percent over last year) with the last week of November marking the 16th consecutive week of double-digit price appreciation. Although sellers are listing more & more homes we need more new home supply to add to inventory and slow these sharp price increases.
Home value growth hasn't ended yet — Zillow expects seasonally adjusted home values to rise by 2.9 percent between September and the end of 2020, and rise a total of 7 percent during the 12 months ending September 2021. In previous forecasts, the company predicted a 4.8 percent increase in home values between August 2020 and August 2021.
We typically see a decline in demand and a big increase in time on the market before the end of November that points to a seasonal slowdown, but this demand has not gotten significantly shorter since May, and buyers and sellers are continuing to connect at a record pace. If this trend continues, that's a signal that 2020's housing market is going to remain hot even during the winter holidays.
Regionally, demand for homes may be starting to grow slower than new listings in parts of the West and Northeast. This trend shows that the housing market is as strong as it was during the housing bubble. It is nowhere to close to a level where you can imagine the balance real estate market conditions.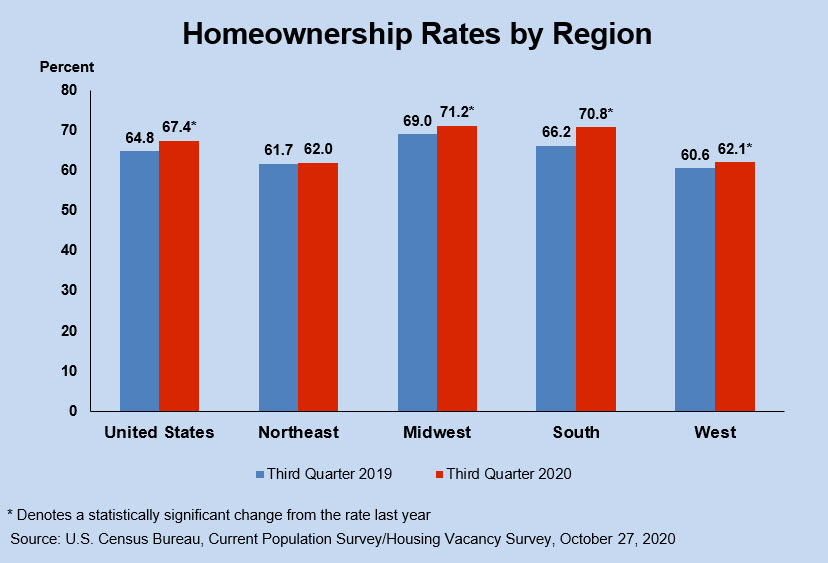 As of now record-low mortgage rates and shortage of inventory are keeping the US housing market strong concerning buyer demand. Both prices and sales have been surging month-over-month breaking new records. Existing home sales also show the tightest housing market on record.
In the article, you'll find data that shows how the US housing market is recovering week after week from the blows of the pandemic. New home sales have also risen during the pandemic and existing home sales are at a 1-year high.
According to economists and market watchers, the real estate sector has also been highly supportive of the economic recovery of the country so far. As prices keep climbing month-over-month, it just shows the resilience of the US housing market in 2020 in the face of an ongoing economic recession.
The current short-term extreme demand that is reflected in sharply rising prices, can be attributed to the pent-up demand for home purchases from the March-July period when a great part of the country was in total lockdown. The housing sales and prices have stayed strong through the summer months amid increasingly short inventory and high demand.
This strong buyer activity points to a fall & winter housing market that is more active than normal, where buyers may face more competition and may have to act more quickly than usual to snag their dream home. In the winter season, the sales and prices will continue to rise but at a slower pace.
As was expected, home buying and selling prospects drastically improved in November 2020 from pandemic lows. With unusually high buyer interest this late in the homebuying season, buyers continue to move much faster than this time last year to beat out competition and lock in low mortgage rates.
As of November 28, 2020, the weekly market trends show the housing market continues to be much more active than usual as we head towards the end of the year. With supply-constrained and demand boosted, house prices seem to rest on solid foundations in the pandemic. They are likely to hold up even if there is a decline in transaction activity in the coming months.
Housing prices have surged to new records due to very strong demand but low mortgage rates are helping buyers offset this increased cost. Mortgage rates for housing are anticipated to stay at near 3% over the next 18 months which will keep things easier for buyers. The median listing prices continue to grow at 13.1 percent over last year, marking the 16th consecutive weeks of double-digit growth in asking prices. Lower mortgage rates are keeping the home buyers afloat amidst continuous price gains.
New properties listed for sale were up by 1 percent. The improved selling prospects in November (in terms of increase in new listings) are a good sign and will need to remain on that path to bring more homes into the market. This week's data mark the first time that new listings nationwide were up since early March. New listings are much needed to ensure further growth in home sales, so the additional improvement here will be important for home buyers to make more purchases.
The total active listings were down 39 percent for the fourth consecutive week. This steadiness suggests despite improvements in the trend of new sellers, the current trend gives no relief to buyers because it would not slow down the price growth. The housing market continues to favor sellers. With high interest from buyers and a limited flow of new listings, the total active listings have been lagging from the previous year.
Homes are being sold at an increasingly fast pace when compared to the previous year. As new inventory comes on to the market. they are quickly taken out of the market from heavy buyer competition. Therefore, housing units are still in short supply with unsold inventory sitting at a 2.7-month supply at the current sales pace.
Time on the market is 14 days faster than last year – almost 2 weeks faster than a year ago. While time on the market is slowing compared to last week, homes are selling even faster than they were this time last year. The rapid turnover reflects the faster than usual pace of home sales despite the usually slower season. In addition to the sellers' market pressures, in which homes sell quickly after listing, measured time on the market is also dropping as the share of fresh listings rises.
| | | | | |
| --- | --- | --- | --- | --- |
| Weekly Housing Trends | First Two Weeks March | Week Ending Nov 14 | Week Ending Nov 21 | Week Ending Nov 28 |
| Median Listing Prices | +4.5% YOY | +12.6% YOY | +13.1% YOY | +13.1% YOY |
| New Listings | +5% YOY | -7% YOY | -5% YOY | +1% YOY |
| Total Listings | -16% YOY | -39% YOY | -39% YOY | -39% YOY |
| Time on Market | 4 days faster YOY | 13 days faster YOY | 13 days faster YOY | 14 days faster YOY |
NEW SINGLE-FAMILY HOUSING CONSTRUCTION TRENDS
Builder sentiment is at an all-time high and building permits have rebounded from pandemic lows. Builders are racing to fill the gap between supply and demand, and we may see more listings next year. In a sign that housing continues to lead the economy forward, builder confidence (NAHB/Wells Fargo HMI index) in the market for newly-built single-family homes continues to increase.
The latest reading of 90 is up 5 from last month's 85 and at its highest level in the indicator's history, exceeding its December 1998 record. All the HMI indices posted their highest readings ever in November. The HMI index gauging current sales conditions rose six points to 96, the component measuring sales expectations in the next six months increased one point to 89, and the measure charting traffic of prospective buyers rose three points to 77.
A reading over 50 indicates that more builders view sales conditions as good compared with those who view them as poor. Builder confidence levels have hit successive all-time highs over the past three months. It's an indication that housing continues to lead the economy forward.
Record low mortgage rates have boosted demand for new homes. Looking at the three-month moving averages for regional HMI scores, the Northeast increased two points to 83, the Midwest jumped six points to 80, the South rose four points to 86 and the West increased four points to 94.
"The housing market continues to be a bright spot for the economy, supported by increased buyer interest in the suburbs, exurbs and small towns," said NAHB Chief Economist Robert Dietz. "However, affordability remains an ongoing concern, as construction costs continue to rise and interest rates are expected to move higher as more positive news emerges on the coronavirus vaccine front. In the short run, the shift of housing demand to lower density markets such as suburbs and exurbs with ongoing low resale inventory levels is supporting demand for home building."
NAHB noted that a shift toward suburban areas working in tandem with incredibly low-interest rates has kept builders busy. However, that may translate to higher costs and delays in receiving building materials, due to high demand, low supply, and 20 percent tariffs on Canadian supply. As the cost of lumber has soared to record highs many buyers are finding themselves priced out of the new-home market.
"Lumber prices are now up more than 170 percent since mid-April, adding more than $16,000 to the price of a typical new single-family home," NAHB Chief Economist Robert Dietz said in a statement.
The NAHB/Wells Fargo Housing Market Index (HMI) index is designed to measure sentiment the relative level of current and future single-family home sales. It is a diffusion index, which means that a reading above 50 indicates a favorable outlook on home sales; below 50 indicates a negative outlook. The NAHB gets input from builders on how confident they are in the housing market based on buyer behavior, sales, and incorporates any forecasts as well.
NEW RESIDENTIAL HOME SALES IN OCTOBER 2020
According to Urban Land Institute, real estate market conditions and values in the U.S. are expected to rebound in 2021 and trend even higher in 2022, with single-family homes outperforming other sectors such as commercial, retail, hotel, and rental.
New single-family construction starts will fall slightly to 871,250 in 2020 before rising to 940,000 in 2021 and 975,000 in 2022, the highest level since 2006. In the meantime, home prices will grow an average of 4.1% over the next three years, above the long-term average of 3.9%, according to the report, based on a survey of 43 economists at 37 leading real estate organizations.
Sales of new single-family houses in October 2020 were at a seasonally adjusted annual rate of 999,000, according to estimates released jointly by the U.S. Census Bureau and the Department of Housing and Urban Development. This is 0.3 percent (±13.6 percent) below the revised September rate of 1,002,000 but is 41.5 percent (±22.6 percent) above the October 2019 estimate of 706,000.
The median sales price of new houses sold in October 2020 was $330,600. The average sales price was $386,200. The seasonally-adjusted estimate of new houses for sale at the end of October was 278,000. This represents a supply of 3.3 months at the current sales rate.
Till the time coronavirus pandemic exists it will lead to a see-saw recovery with ups and downs. Let us discuss in detail the various housing indices & their predictions for 2020 & 2021. We have updated this article with the latest housing market report from various credible sources like Realtor.com (check reference section).
Housing Market Crash: Will Prices Crash in 2021?
The US housing market is far from crashing in 2020 or 2021. In fact, it continues to play an important supportive role in the country's economic recovery. Current economic conditions resemble a "swoosh" pattern, with the initial impact from the lockdown followed by a gradual recovery as the economy reopens. Mortgage rates and slow but steady improvements to the job landscape continue to propel confidence for first-time buyers.
If the reopening is followed by another wave of the COVID pandemic leading to a shutdown, the "double-dip" is a possible result (W-shaped recovery). In either case, the overall outlook points to declining rent growth in the short term followed by a gradual period of recovery.
Let's first see how various consumer surveys are responding in wake of this crisis. The Federal Reserve Bank of New York's Center for Microeconomic Data released the November 2020 Survey of Consume Expectations, which shows that households are reporting a decline in income and spending growth expectations and a mixed labor market outlook.
Median inflation expectations in October decreased from 3.0% to 2.8% at the one-year horizon and remained unchanged at 2.7% at the three-year horizon. The decline was driven by higher-income respondents (household income above $100,000).
Median home price change expectations, which have been trending upward after reaching a series' low of 0% in April 2020, were unchanged at 3.1% in October.
Median one-year ahead expected earnings growth remained unchanged at 2.0% in October, for the third consecutive month. The series remains well below its 2019 average level of 2.4%.
Median expected household income growth decreased by 0.3 percentage point to 2.1% in October. Since February, this series has moved within a narrow range from 1.9% to 2.3%, well below its 2019 average of 2.8%. The decrease was driven by respondents without a college education.
Median household spending growth expectations decreased from 3.4% in September to 3.1% in October, which was the same as its February 2020 level.
Mean unemployment expectations—or the mean probability that the U.S. unemployment rate will be higher one year from now—decreased from 36.4% in September to 35.4% in October, its third consecutive decline. The decline was driven by respondents without a college education.
The pace of existing-home sales has jumped to a level not seen since 2006 and, importantly, was followed by strong pending sales, purchase mortgage applications, and construction data. As Federal Reserve has made clear that it has no intention of raising interest rates soon, many households are seizing the opportunity to refinance their existing mortgages.
Historically, low-interest rates are also an inducement to buy homes, but slow supply growth continues to result in high levels of home price appreciation, which is offsetting some of the affordability benefits of the lower rate environment, according to the Fannie Mae Economic and Strategic Research (ESR) Group.
The Fannie Mae Home Purchase Sentiment Index (HPSI) increased 0.7 points in October to 81.7, rising for the third consecutive month and continuing the rebound from late spring. The index which measures housing attitudes, intentions, and perceptions, using six questions from the National Housing Survey® (NHS), is a good indicator of the recovery and buyer and seller behavior.
Year over year, the HPSI is still down 7.1 points but it has recovered more than half (60%) of the early pandemic-period decline, mirroring the strong home purchase activity of the past few months.
Three of the six HPSI components increased month over month, with consumers reporting a more optimistic view of both home buying and home-selling conditions, in addition to expecting mortgage rate declines. However, consumers also reported greater pessimism regarding their personal finances and employment outlook.
The latest survey finds out that those who think it's a 'good time to sell a home' feel so because of the following reasons:
29% of them feel so because of high home prices.
24% of them feel that it is a good time to sell because of favorable mortgage rates.
7% feel it's easy to qualify for a mortgage.
16% feel that as not many homes are available you can sell your home fast.
11% feel that current economic conditions are conducive to selling a home.
The latest survey finds out that those who think it's a 'good time to buy a home' feel so because of the following reasons:
51% of them feel that it is a good time to buy because of favorable mortgage rates.
13% of them feel so because of low home prices.
12% feel that many homes are available for buyers.
11% feel that current economic conditions are conducive to buying a home.
3% feel it's easy to qualify for a mortgage to buy a home.
Zillow's market pulse report dated November 20, 2020, shows that the existing home sales continued to surge in October on the strength of enduring buyer demand. Low mortgage rates, which have partially fueled this demand, fell even lower. And jobless benefit applications remain elevated after increasing from last week.
Existing home sales in October rose 4.3% from September and 26.6% from a year ago, to 6.85 million (SAAR), according to the National Association of Realtors.
Pending home sales data do point to some cool down to come, but by now it's clear.
The median existing-home price rose to $313,000 in October, up 15.5% from October 2019 — the fastest annual rate of price appreciation since October 2005.
Ellie Mae – a software company that processes 35% of U.S. mortgage applications – reported the average mortgage rate on closed loans in October was less than 3%, the first time.
1.1 million initial claims for jobless benefits were filed last week, 55,000 more than the week before.
12 million people are due to lose their benefits at the end of December unless some programs are extended.
Mortgage delinquencies improved again in October, falling to 6.44%, the lowest level since March. Despite five consecutive months of improvement, there are still more than 3.4 million delinquent mortgages, nearly twice as many as there were entering the year, according to Black Knight.
October's 4,700 foreclosure starts marked a nearly 90% year-over-year reduction as widespread moratoriums remain in place, while active foreclosure inventory set yet another record low at 178,000. Record-low interest rates again pushed prepayment activity higher, with October's prepayment rate of 3.17% setting the highest single-month mark in more than 16 years.
U.S. rental payment rates appear to be staying afloat. The National Multifamily Housing Council found 90.3 percent of apartment households made a full or partial rent payment by November 20 in its survey of 11.5 million units of professionally managed apartment units across the country.
This is a 1.6 percentage point, or 183,431 household decrease from the share who paid rent through November 20, 2019, and compares to 90.6 percent that had paid by October 20, 2020. These data encompass a wide variety of market-rate rental properties across the United States, which can vary by size, type, and average rental price.
Realtor's Housing Market Recovery Index Foresees No Crash
According to Realtor.com's latest recovery report, the Housing Market Recovery Index remained steady at 112.8 nationwide for the week ending November 28th, up 2.2 points over the prior week. With fewer people on the move and more time spent at home during the Thanksgiving holiday, housing activity saw a boost compared to the same time in the previous year.
The housing index is pegged to a starting point of 100 at a particular year. And then they can just track whether things are improving or declining from that reference point. It's similar to any other index where you have a starting point or a starting year and you peg it at a hundred and it just goes up and down from there.
It went up for most of March, and then it hit this peak and came down rapidly and fast over the course of essentially the end of March, April, and right through to the beginning of May where it bottomed out.
So after May 1st, that index started to go up, it passed 85 in mid-May and then continue to work its way up rather quickly. The recovery index had reached 106.6 nationwide for the week ending July 18, bringing the index above the pre-COVID recovery benchmark for the first time since March, and then it just kept going up from there. As of November 28th, it is now 12.8 points above the pre-COVID baseline and up 2.2 points over the prior week.
Locally, demand and supply continue to recover in most regions of the country. Apparently, home buying interest may be starting to grow slower than seller confidence in parts of the West and Northeast. The West saw its Supply Index increase by 9.6 points and its Demand Index increase by 5.0 points.
Similarly, the Northeast saw its Supply Index increase by 4.9 points, and its Demand Index increase by 1.0 points. The moves however are well short of solving the shortage of options for buyers.
48 markets have crossed the recovery benchmark as of this week, one less than the previous week. The overall recovery index is showing the greatest recovery in Los Angeles, San Jose, Boston, San Francisco, and Seattle, largely driven by improvements to the inflow of both buyers and sellers. This week, only Nashville, Oklahoma, and Buffalo remained below the baseline.